Sister Wetland Exchange
with Hunter Estuary Wetlands (Australia)
Sister Wetland Exchange
with Hunter Estuary Wetlands (Australia)
A group of wetlands in the Kushiro region (specifically, Kushiro-shitsugen, Akkeshi-ko and Bekambeushi-shitsugen, and Kiritappu-shitsugen) formed a sister affiliation with Australia's Hunter Estuary Wetlands* in November 1994. Staff at these sites promote the conservation and wise use of wetlands as well as sharing experiences and information.
* At the time of the affiliation, the site was known as Kooragang Wetland and the Surrounding Wetlands.
It was renamed the Hunter Estuary Wetlands in 2004 when the area registered under the Ramsar Convention was expanded.

Background of Sister Wetland Exchange
The trigger for the sister-wetland affiliation was Latham's snipe - a migratory bird that breeds on marshes and grassland on Japan's main island of Honshu and to its north (mainly Hokkaido) in summer and spends winter on wetlands in Australia.
A Latham's snipe survey report published by Kushiro high school students attracted the attention of the Australian government, which led to the establishment of sister affiliation between the students' school and a high school in New South Wales' Hunter region - one of the wintering sites for these birds. The school affiliation paved the way for the sister-wetland affiliation.

Latham's snipe (Gallinago hardwickii)
Latham's snipes come to Kushiro in spring and rear their chicks on wetlands and elsewhere in summer before flying to Australia in autumn in preparation for winter.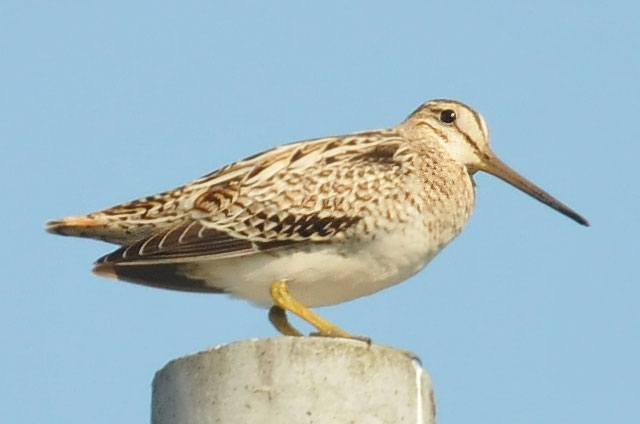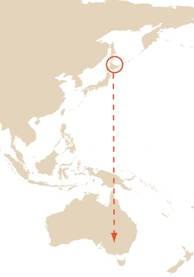 Hunter Estuary Wetlands
The Hunter River flows through the temperate Hunter region facing the Pacific Ocean. Its estuarine section features expanses of sandbanks, mudflats and islands, and is designated as the Hunter Estuary Wetlands under the Ramsar Convention. It was initially designated as the Kooragang Nature Reserve in 1984, and was given its present name when the site's area was expanded (total area: 2,971 ha). The site's varied natural environment, which encompasses mudflats, sandy beaches, freshwater and brackish marshes, and mangrove forest, is a treasure trove of flora and fauna, and the site is also designated as the Hunter Wetlands National Park. It is particularly known as an important feeding and resting ground for water birds, and attracts many bird watchers and researchers.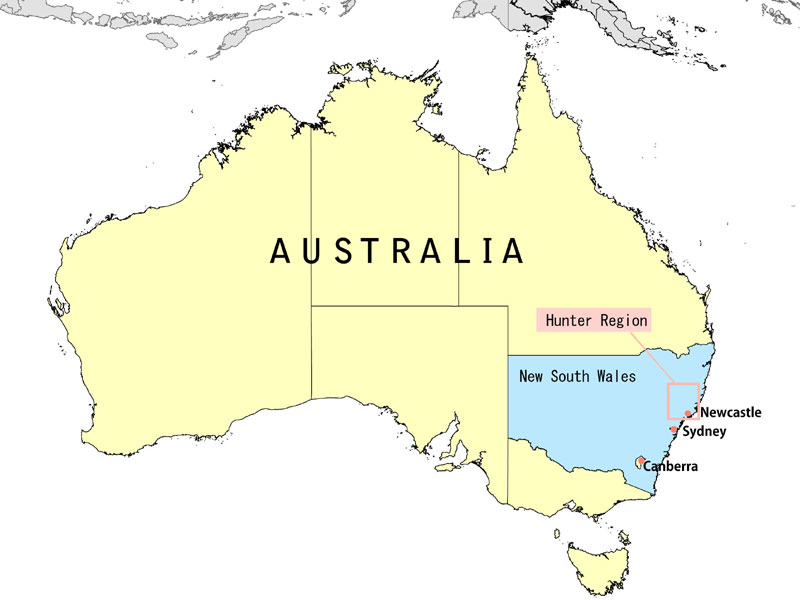 Wetland Conservation
The Hunter Estuary Wetlands' location adjacent to an industrial complex and farmland led to the loss of part of its area due to development activities. Today, the public and private sectors along with local communities are working closely to restore the natural environment via the Kooragang Wetland Rehabilitation Project, which has produced significant positive results.
Enjoyment of the Wetlands and Related Learning
Hunter Wetlands Centre Australia
The Hunter Wetlands Centre Australia adjacent to the Kooragang part of the Hunter Estuary Wetlands Ramsar site organizes various environmental education and tour programs for the enjoyment of children and adults alike. Its various facilities include an exhibition space showcasing the natural environment of the wetlands and a rest area for visitors. The Centre serves as a base for wetland conservation activities and plays a central role in all aspects of the Hunter Estuary Wetlands' existence.
Since 1996, the Centre and KIWC have promoted exchanges between their wetland experts through inspection exchanges and other work. In particular, staff share expertise and techniques in technical and specialized fields, such as approaches to wetland restoration and management based on public participation.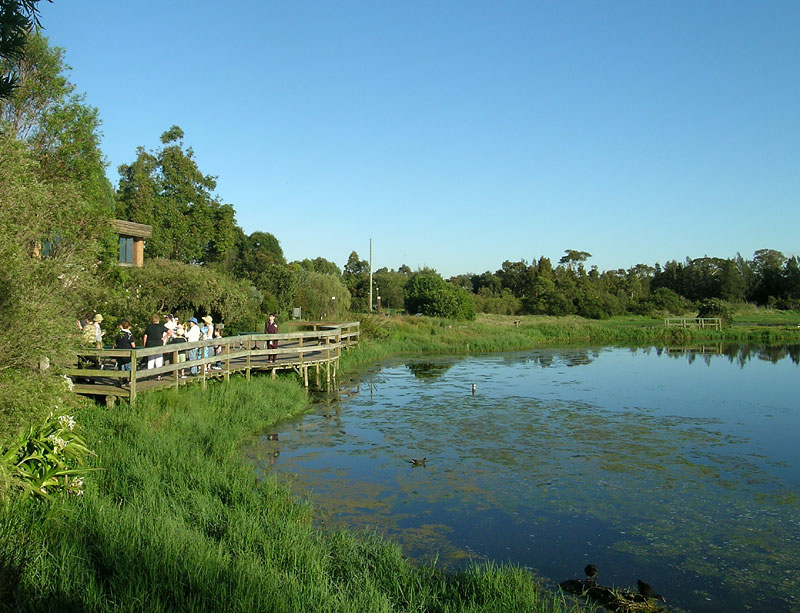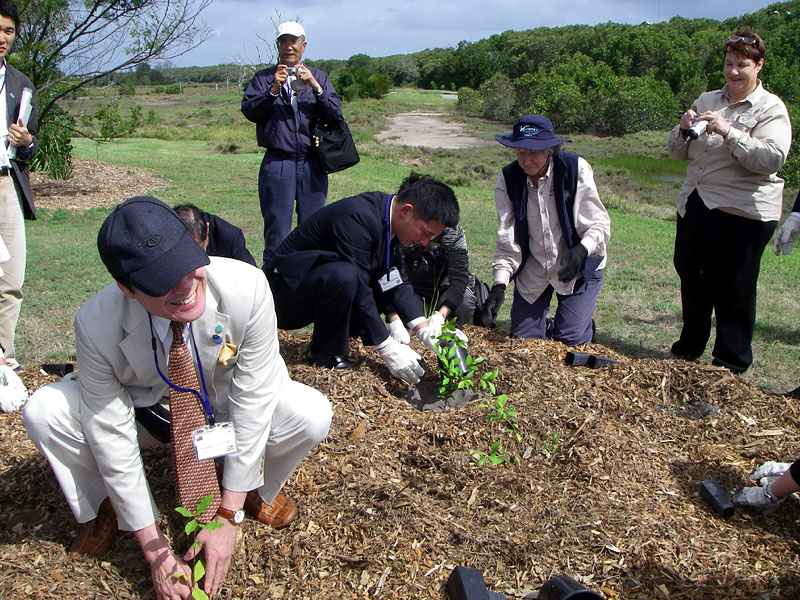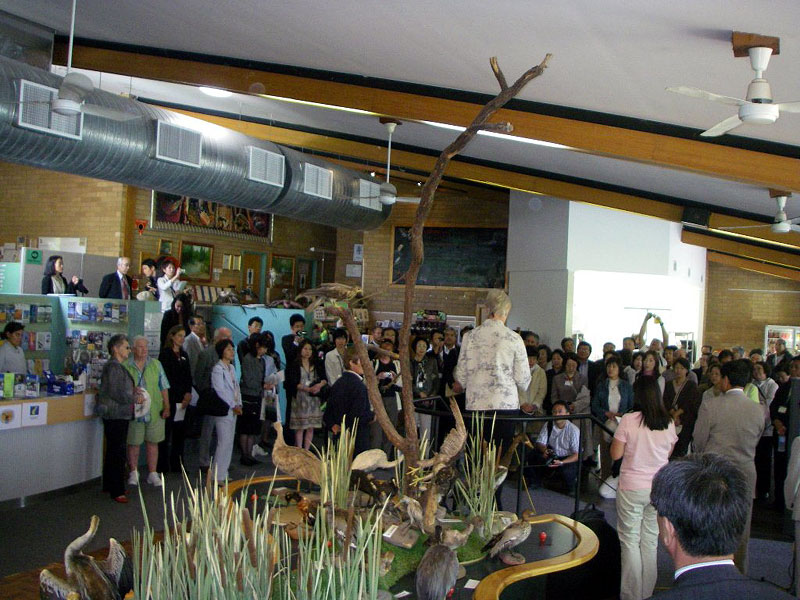 Recent Activities
Sister-wetland Relationship Renewed
Date: November 6, 2015
Venue: Newcastle, New South Wales, Australia

Sister-wetland Relationship was established with Kushiro-shitsugen, Akkeshi-ko and Bekambeushi-shitsugen, Kiritappu-shitsugen and Hunter Estuary Wetlands in 1994 to collaborate with each other on promoting the conservation and wise use of wetlands. We renewed the relationship in 2004, and another renewal took place in 2015.
KIWC President Hiroya Ebina (Mayor of Kushiro City) visited Newcastle and signed a renewal agreement on the sister-wetland relationship along with Newcastle deputy mayor Michel Osborn and Port Stephens mayor Bruce MacKenzie, reaffirming the commitment to ongoing collaboration toward wetland conservation.
On the next day, Mr. Ebina visited an organization engaged in wetland restoration and planted a commemorative tree.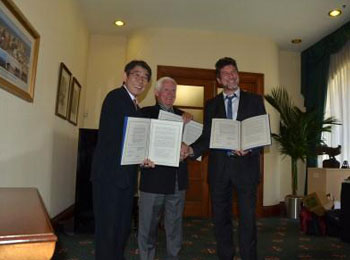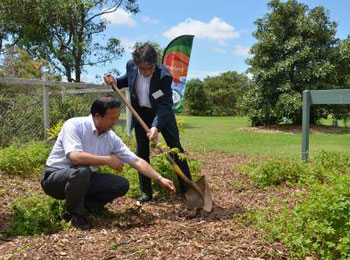 Book Reading (Picture Book Reading by the Member of the Port Stephens Sister Cities Committee, Drawing Workshop)
Date: April 20, 2013
Venue: Kushiro City Library
Organizer: Kushiro City Library
Co-organizer: Kushiro City, KIWC

A member of the Port Stephens Sister Cities Committee read the One World, One Day picture book (donated by the Committee to Kushiro City Library) to children. The reading was followed by a koala drawing workshop at the venue, which was decorated with various kilts featuring Australian plant and animal motifs created by members of the Nelson Bay Quilt Club in Port Stephens.

Visit to Kushiro by a Resident Delegation from Port Stephens
Term: April 19-22, 2013

Port Stephens Sister Cities Committee Chair Nigel Dique and six other members of a resident delegation from Australia's Port Stephens (a Kushiro Wetland sister city) visited Kushiro. They were hosted by and interacted with local residents, and events organized to mark the visit included a panel exhibition featuring Port Stephens City and sister wetlands.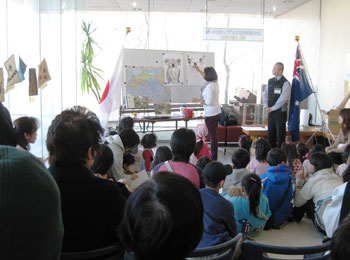 Art Exhibition Showcasing Sister Wetlands and Port Stephens City
Term: April 13-21, 2013
Venue: Kushiro City Library
Organizer: Kushiro City
Co-organizer: Kushiro City Library, KIWC

This exhibition highlighted photos and artwork showcasing wetlands with a sister relationship to those in Kushiro. The works were created by adults and children, and were donated by the sister-affiliated Hunter Wetlands Centre Australia. The exhibition also showcased panels featuring Port Stephens City and the lifestyles of local residents.